SalesBrain è la prima agenzia di neuromarketing con un proprio modello scientifico di persuasione che aiuta le aziende ed i professionisti a catturare, convincere e concludere un maggior numero di trattative e clienti. SalesBrain amplifica l'efficacia e le performance delle vendite e del marketing concentrandosi sull'organo decisorio del cervello dei vostri clienti tramite un innovativo, unico e riconosciuto modello a base scientifica denominato NeuroMappa. Questa metodologia oramai provata e dimostrata e facile da utilizzare si basa su 4 semplici passi ed è supportata da forti evidenze provenienti dalle ultime ricerche delle neuroscienze, volte a massimizzare l'efficacia e l'efficienza dei processi di marketing e di vendita , delle persone coinvolte e delle performance.  Fondata nel 2002, SalesBrain ad oggi ha aiutato oltre 6000 aziende nel mondo ed ha formato oltre 55,000 executives di oltre 20 nazionalità.  In Italia la società è seguita dal Partner Italiano Ing. Fabio Paron che collabora con SalesBrain fin dal marzo del 2003.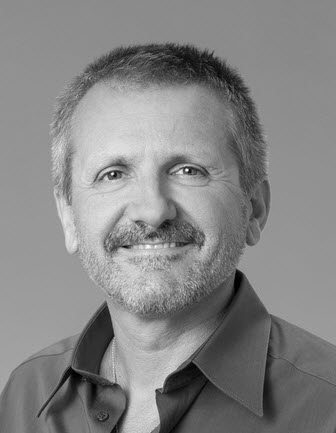 Dr. Christophe Morin
CEO, Chief Pain Officer
SalesBrain: Capture, Convince, Close More Sales
With over 30 years of marketing and business development experience, Christophe is passionate about understanding and predicting consumer behavior using neuroscience.
Before joining SalesBrain, Christophe was Chief Marketing Officer for rStar Networks, a public company that developed the largest private network ever deployed in US schools. Previously, he was VP of Marketing and Corporate Training for Grocery Outlet Inc, the largest grocery remarketer in the world.
Christophe has received multiple awards during his career. In 2011 and 2103,  he received prestigious speaking awards from Vistage International. In 2011 and 2014, he received Great Mind Research Awards from the Advertising Research Foundation (ARF).
Christophe holds a BA in Marketing, an MBA from Bowling Green State University, an MA and a PhD in Media Psychology from Fielding Graduate University.  He is an expert on the effect of advertising on the brains of adolescents and young adults. He is an adjunct faculty member of Fielding Graduate University where he teaches a Masters/PhD course he created called "The Psychology of Neuromarketing". He is also a board member of the Neuromarketing Science and Business Association (NMSBA)
For a consultation on how to identify and overcome your customers' Pain, Christophe can be reached at [email protected]
For a clip of Christophe, click here.
Patrick Renvoisé
President, Chief Neuromarketing Officer
SalesBrain: Capture, Convince, Close More Sales
Patrick, a French born nerd quickly became an expert in complex sales.  He headed Global Business Development efforts first at Silicon Graphics then as Executive Director of Business Development at LinuxCare. In the course of closing over $3B of business transactions and selling multi-million-dollar super-computers to NASA, Boeing, Shell, Canon, BMW, Airbus and more, he met with some of the smartest people on earth and he became fascinated by the human mind.
Pushed by a strong desire to seek the truth about Sales & Marketing, Patrick discovered the buy button inside the brain.
To access this button, he spent 2 years researching and formalizing a science-based MAP. This NeuroMAP™ has helped over 6,000 companies' worldwide get their message truly understood by the brain of their customers.
Patrick received a Masters in Computer Science from the National Institute of Applied Sciences (Lyon, France) and he is currently serving as Chief Neuromarketing Officer and Co-Founder of SalesBrain.
To get a diagnostic on the impact of your sales and marketing strategy on the brain of your customers, contact Patrick at: [email protected]
SalesBrain: Capture, Convince, Close More Sales
Dr. Gail Patton DaMert
Chief Neuromarketing Research Officer
Gail Patton DaMert has over 30 years of systems planning and business operations expertise. As CEO of DaMert Company, a privately held designer, manufacturer, and distributor of over 200 specialty toys and gifts, Gail grew revenues from $1.2M to $10M prior to its sale to a publicly traded entity in 2001. Prior to 1989, Gail (Patton) was a Systems Engineering Manager at Lockheed Missiles and Space Company developing requirements for classified advanced technology satellite systems and a Lead Engineer on several "bid and proposal" efforts that were awarded multi-million dollar government contracts. Gail is passionate about helping clients visualize and develop the "big picture" for their business, and most importantly to identify what is absolutely unique about their offerings so as to develop sustainable competitive positions. Gail holds a B.A. degree in Mathematics and Astronomy from Smith College and a Ph.D. in Astronomy from State University of New York at Stony Brook.
Gail serves as Chief Research Officer and has been with SalesBrain since its creation in 2002. For a consultation on how to conduct PAIN research or differentiate your claims from those of your competitors, contact [email protected].
SalesBrain: Capture, Convince, Close More Sales
Bryan Gray
Chief NeuroCreative Officer
As the Chief NeuroCreative Officer, Bryan's role is helping drive the execution of the creative work and driving the revenue growth from using the Sales Brain methodology. From connecting on a business level with organizational leadership, to fully understanding their Claims and how it is designed to help the sales process fully embrace their Neuro tools, Bryan works closely other team members to make sure business results stay first and foremost.
Helping launch SalesBrain Creative, this is Bryan's third multi million dollar business built from scratch and he has previously led two companies to a spot on Inc. Magazines list of fastest growing companies.
Bryan has been married just over 24 years to his wonderful wife, Kim and they have twin 11 year old boys. He loves his weekends at baseball tournaments with Dylan and sailing and RC car racing with Kyle.
SalesBrain: Capture, Convince, Close More Sales
Mike Rendel
Executive NeuroCreative Director
Drawing from over a decade in the industry as a designer and creative director, Mike's work has won national awards, propelled emerging brands to national recognition and helped cause groups reach those in need around the globe. His diverse understanding of a variety of communication media, from his early background as a print designer through his extensive experience that spans interactive web experiences and studio work, allows for a broad application of creative concepts across multiple channels. Mike's current role as Executive Creative Director at SalesBrain has him spending time on big concepts, neuromarketing projects and talent development as he continues his life-long pursuit of all things awesome.
SalesBrain: Capture, Convince, Close More Sales
Elliott Bastien Morin
NeuroMovie Producer
Elliott offers a wide range of support services to SalesBrain. He is fluent in using leading-edge software applications for vocal analysis and facial decoding to capture scientific insights during in-depth research phases. As a talented videographer, Elliott also produces video stories and testimonials that appeal to the brains of SalesBrain customers. With a BA in Cinema Studies, he has produced over a hundred short videos, amongst which are dozens of testimonial videos and personal video profiles with SalesBrain. Some of his videos have won critical acclaim and contributed to the success of major fund raising campaigns. To reach Elliott, email him at [email protected]
Benson Lee
NeuroProject Director
Benson is the most recent addition to our growing Salesbrain Team. His first eight professional years were spent in financial accounting for Mervyn's, Levi Strauss & Co., USA Today and Golden Gate University where he also completed his MBA program in Finance. He also has 27 years of combined experience in sales, managed projects and coordinated world-wide distribution of American designer brands of leather accessories and jewelry; provided graphics and print media services for clients including Bay Area Rapid Transit, Grocery Outlet and Macy's California where he developed one of the first desktop sign-making systems.
He holds a Graphics Communication Certificate from SFCC and is currently finishing a Social Media Marketing Certification from SFSU.
Play time for Benson is honing and sharing his culinary skills with friends and family, dining out and coaching friends on personal finance and startup business.
SalesBrain Business Partners
SalesBrain: Capture, Convince, Close More Sales
Dr. Antonio Casals
SalesBrain Partner (Spain and Portugal)
With over 30 years of global marketing, sales, and top management experience, Antonio's passion is to understand and predict clients and consumer behavior as well as to develop people's  skills in neuromarketing.
Antonio has held senior management positions in US publicly traded companies like General Motors, Electronic Data Systems and Siebel Systems. He is from Barcelona and works frequently in Spain, Germany, Portugal, France, Italy, UK, Belgium, USA, Korea, LATAM and some other countries. He is fluent in five languages.
Antonio is a visionary who can motivate a team while managing complex projects and earning the confidence of all his customers. Leadership is one of his strongest qualities. He was awarded with the "International Salesman of the year for Outstanding Sales Performance" EDS Award for a strategic and multimillion $ deal for Barcelona 92 Olympics. 10 years on the President's Club in EDS, SSA ans Siebel Systems. He is also a successfull entrepreneur.
He is Professor in a Neuromarketing and Neurostrategy Program offered by the EEN Business School (Madrid – Spain) and  in a Master of Science offered by the Barcelona School of Management (UPF University- Barcelona- Spain). He holds a PhD in Germanic philology.
He is also the Local Chair for Spain  of the Neuromarketing Science and Business Association (NMSBA)
For a consultation on Neuromarketing or NeuroStrategy, Antonio can be reached at [email protected].

For a clip of Antonio, click here.
SalesBrain: Capture, Convince, Close More Sales
Kivilcim Kayabali M.D
SalesBrain Turkey Partner
Kivilcim Kayabali is agraduate of the Istanbul Medical faculty.
She attributes her long standing interest in psychology, human mind and behavior.
After practicing as GP for three years, she has worked for pharmaceutical companies both in marketing and medical departments. In 1999 she founded Turkey's most well known training and consultancy company PTMS, targeting healthcare industry and provide 'tailor made' solutions. She has developed unique training modules both in medical and marketing fields. She has a great expertise in organizing innovative conferences and academic programs. Her company trained more then 15.000 sales rep and over 5.000 pharmacists. She founded a boutique medical communication agency in 2009 which combines science and marketing. She also involved in digital marketing and generates Turkey's most comprehensive Digital Health platform and Summit in Turkey.  Kivilcim is fascinated with SalesBrain's unique, scientific Model and in the last two years she is mainly focused in neuromarketing area.
SalesBrain: Capture, Convince, Close More Sales
Kristen Hansen
SalesBrain Australia Partner
Kristen Hansen is a Salesbrain partner in Australia. She has a Bachelor of Business and is currently studying for a Masters in Neuroscience of Leadership with Middlesex Uni, UK. This neuroscience research is embedded in a framework to enhance effective personal and professional leadership. Kristen is certified as a coach with Results Coaching Systems and certified in Emotional Intelligence and DISC profiling with Thomas International. She is a member of the Neuroleadership Institute and leads the Sydney Interest Group for the Institute.
SalesBrain: Capture, Convince, Close More Sales
Dr. Thomas Trautmann
Salesbrain Partner (Switzerland, France and Germany)
Thomas brings over 24 years of experience in engineering and marketing with both high tech and industrial companies such as Robert Bosch, Hewlett-Packard, AOL, Steelcase and Sapa Building Systems.  Before joining SalesBrain, Thomas worked as CMO at Turck Duotec where he brought the NeuroMap™ process on board, experiencing it first-hand.
Thomas has a strong passion for understanding what make the products and businesses he manages unique, and focused towards their customers, uncovering their hidden motivations and desires. This has allowed him to build very strong ties with his own business customers and strengthen their competitive advantage.
Born in Switzerland of German descent, Thomas has lived in Belgium, France, and Ireland, and considers himself a European citizen. He speaks fluent French, German and English.  As SalesBrain Partner, Thomas serves the French and German speaking  European and northern African countries.
Thomas graduated in Computer Engineering and holds a PhD in Artificial Neural Networks.
Thomas can be reached at [email protected] or call +41 78 658 00 63
Christophe Pigato
SalesBrain Partner (Switzerland and France)
Christophe has over 25 years of marketing, communication, management and entrepreneurship experience.  Christophe is passionate about "human nature" and especially the psychology of influence. Christophe worked in advertising agencies in the 80s and subsequently founded his own consulting company –Human Asset  — in 1997. Human Asset is dedicated to improving organisational performance through developing the right combination of cognitive and emotional Intelligence. Many of Christophe's customers are in the luxury industry like Kering, LVMH, Richemont, Rolex and Swatchgroup, Chopard, Patek Philippe and others. Meanwhile, some of his other clients are in the FMCG industry such as L'Occitane International and Victorinox Group (Victorinox swissarmy watches and Wenger Watch S.A.). Christophe also has a significant experience with large industrial groups such as ABB Secheron, Dupont de Nemours, GTS Europe, and SITA.
Christophe holds an MBA. He has been trained by Professor Klaus Scherer (University of Geneva and member of the American Academy of Sciences and Arts) on the impact of emotions on human behavior and is a frequent guest lecturer in several schools and universities in Switzerland.
Christophe can be reached at [email protected]
Fabio Paron
SalesBrain Certified Partner –  Italy & Italian Part of Switzerland
Fabio, a dual Swiss and Italian citizen has traveled extensively in more than 30 countries worldwide, where he developed a passion for understanding the processes of communication and their application to business. Fabio was recently Managing Director for the Royal Swets Group in Italy (a large publishing group) where he grew revenues 60% per year for three consecutive years and closed multi-million deals with large organizations such as ENI, GSK, ISS. Prior to this, Fabio served as Sales and Marketing Director for CO.EL. SPA –a broadcasting division of Fracarro Group–.
Fabio started his career with Siemens SPA – the Italian branch of the multi-billion German multinational group- beginning as a junior engineer and after several promotions, as Account Manager for large European clients. At Siemens, Fabio directly contributed to several patents and new product designs for microwave-radio applications. Fabio derived his success from applying new communication methodologies to business. His current objectives are to help teams achieve greater success by applying a scientific yet deeply human discipline.
Fabio holds a Master in Electronic Engineering and an MBA from SDA Bocconi Business School in Milan. It was during a lecture on brain structure at his MBA program that he developed a passion for learning and understanding the "Reptilian Brain". Fabio is close to completing his second Master in Psychology Science and Techniques.
Fabio can be reached at [email protected]
Prenota ed Acquista un Colloquio Online con Ing. Fabio Paron – SalesBrain Italia : clicca qui