SalesBrain is the first neuromarketing agency with a scientific persuasion model that helps companies achieve scientific growth, rapid growth and proven growth. SalesBrain increases marketing and sales performance by targeting the decision making part of your customer's brain with a unique, award-winning, science-based  NeuroMap®. This proven, easy to follow 4-step methodology utilizes the latest neuroscience studies to improve how marketing and sales messages perform both online and offline. Founded in 2002, SalesBrain has helped over 600 companies worldwide and has trained over 200,000 executives of 20 different nationalities.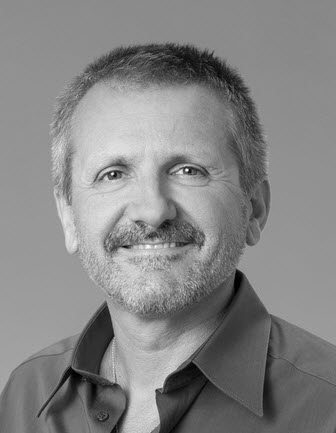 Dr. Christophe Morin
CEO, Chief Pain Officer
SalesBrain: Capture, Convince, Close More Sales
With over 30 years of marketing and business development experience, Christophe is passionate about understanding and predicting consumer behavior using neuroscience.
Before joining SalesBrain, Christophe was Chief Marketing Officer for rStar Networks, a public company that developed the largest private network ever deployed in US schools. Previously, he was VP of Marketing and Corporate Training for Grocery Outlet Inc, the largest grocery remarketer in the world.
Christophe has received multiple awards during his career. In 2011 and 2013,  he received prestigious speaking awards from Vistage International. In 2011. 2014 and 2015 he received Great Mind Research Awards and Distinctions from the Advertising Research Foundation (ARF).
Christophe holds a BA in Marketing, an MBA from Bowling Green State University, an MA and a PhD in Media Psychology from Fielding Graduate University.  He is an expert on the effect of advertising on the brains of adolescents and young adults. He is an adjunct faculty member of Fielding Graduate University where he teaches a Masters/PhD course he created called "The Psychology of Neuromarketing". He was also a board member of the Neuromarketing Science and Business Association from 2011-2016 (NMSBA)
For a consultation on how to identify and overcome your customers' Pain, Christophe can be reached at [email protected]
For a clip of Christophe, click here.
Patrick Renvoisé
President, Chief Neuromarketing Officer
SalesBrain: Capture, Convince, Close More Sales
Patrick, a French-born nerd quickly became an expert in complex sales.  He headed Global Business Development efforts first at Silicon Graphics Inc (SGI) then as Executive Director of Business Development at LinuxCare. In the course of closing over $3B of business transactions and selling multi-million-dollar super-computers to NASA, Boeing, Shell, Canon, BMW, Airbus and more, he met with some of the smartest people on earth and he became fascinated by the human brain.
Pushed by a strong desire to seek the truth about Sales & Marketing, Patrick found a new source of evidences in brain research and neuro-psychology. He discovered the "buy button" thanks to the seminal work of Daniel Kahneman [2002 Nobel prize winner]. In the book "Thinking fast and slow" Kahneman demonstrated that system 1, the fast and subconscious brain –also called the primal brain– is the key to understand human behavior.
To apply Kahneman findings to marketing and better communicate to this subconscious brain, Patrick spent 2 years researching and formalizing the only 100% science-based map of persuasion called NeuroMap®. This map was published in the book "The Persuasion Code" co-authored with his business partner, Christophe Morin Ph.D.
Today NeuroMap® has been taught to over 300,000 Business Executives including over 20,000 CEO and it has helped over 600 companies' worldwide grow their business by ensuring their messages are truly understood by the primal brain of their customers. NeuroMap® is also presented in a series of free LinkedIn on-line courses titled "The Persuasion Code: The neuroscience of sales."
Patrick received a Masters in Computer Science from the National Institute of Applied Sciences (Lyon, France). He and his model NeuroMap® received numerous marketing and speaking awards including the 2009 "Next big thing in marketing" Award from the American Marketing Association. The 2007 recipient of this ward was YouTube.
Patrick is currently serving as Chief Neuromarketing Officer and Co-Founder of SalesBrain. To get a diagnostic on the impact of your sales and marketing strategy on the primal brain of your customers, contact Patrick at: patrick[@at]salesbrain[.dot]com
SalesBrain: Capture, Convince, Close More Sales
Dr. Gail Patton DaMert
Chief Neuromarketing Research Officer
Gail Patton DaMert has over 30 years of systems planning and business operations expertise. As CEO of DaMert Company, a privately held designer, manufacturer, and distributor of over 200 specialty toys and gifts, Gail grew revenues from $1.2M to $10M prior to its sale to a publicly traded entity in 2001. Prior to 1989, Gail (Patton) was a Systems Engineering Manager at Lockheed Missiles and Space Company developing requirements for classified advanced technology satellite systems and a Lead Engineer on several "bid and proposal" efforts that were awarded multi-million dollar government contracts. Gail is passionate about helping clients visualize and develop the "big picture" for their business, and most importantly to identify what is absolutely unique about their offerings so as to develop sustainable competitive positions. Gail holds a B.A. degree in Mathematics and Astronomy from Smith College and a Ph.D. in Astronomy from State University of New York at Stony Brook.
Gail serves as Chief Research Officer and has been with SalesBrain since its creation in 2002. For a consultation on how to conduct PAIN research or differentiate your claims from those of your competitors, contact [email protected].
SalesBrain: Capture, Convince, Close More Sales
Elliott Bastien Morin
NeuroCreative Director
Elliott offers a wide range of support services to SalesBrain. He is fluent in using leading-edge software applications for vocal analysis and facial decoding to capture scientific insights during in-depth research phases. As a talented videographer, Elliott also produces video stories and testimonials that appeal to the brains of SalesBrain customers. With a BA in Cinema Studies, he has produced over a hundred short videos, amongst which are dozens of testimonial videos and personal video profiles with SalesBrain. Some of his videos have won critical acclaim and contributed to the success of major fund raising campaigns. To reach Elliott, email him at [email protected]
SalesBrain Certified Partners
SalesBrain: Capture, Convince, Close More Sales
Eugenia Laureckis
SalesBrain Certified Partner -Spain and Portugal-
Eugenia brings more than 20 years of professional experience in Sales & Marketing Management, in multinational Banking environment at Lehman Brothers & Deutsche Bank and Retail.  Her interest for leading sales teams has deepened since her certification in NeuroMap®  –the SalesBrain model– because she has discovered a truly scientific way to improve sales performance.
With a passion for Sales & Marketing Management, Sales Teams development and International Business Development, she co-founded Neurostrategy where she is currently working as a researcher & marketing strategist. She currently lectures at EEN (Madrid, Spain), ISG (Lisbon, Portugal) & Hamburg Media School (Hamburg, Germany).
Eugenia holds a BA in International Trade from UADE, a Master of in International Business from Pompeu Fabra University, a post-graduation in Management Development from IESE Business School and an MSc in Knowledge and Information Society from the University of Catalonia. She´s pursuing a Ph.D. in Economics & Marketing from Barcelona University, where she is expected to graduate in 2021.
SalesBrain: Capture, Convince, Close More Sales
Dr. Antonio Casals
SalesBrain Certified Partner -Spain and Portugal-
With over 30 years of global marketing, sales, and top management experience, Antonio's passion is to understand and predict clients and consumer behavior as well as to develop people's  skills in neuromarketing.
Antonio has held senior management positions in US publicly traded companies like General Motors, Electronic Data Systems and Siebel Systems. He is from Barcelona and works frequently in Spain, Germany, Portugal, France, Italy, UK, Belgium, USA, Korea, LATAM and some other countries. He is fluent in five languages.
Antonio is a visionary who can motivate a team while managing complex projects and earning the confidence of all his customers. Leadership is one of his strongest qualities. He was awarded with the "International Salesman of the year for Outstanding Sales Performance" EDS Award for a strategic and multimillion $ deal for Barcelona 92 Olympics. 10 years on the President's Club in EDS, SSA ans Siebel Systems. He is also a successfull entrepreneur.
He is Professor in a Neuromarketing and Neurostrategy Program offered by the EEN Business School (Madrid – Spain) and UNIBE Business School (Santo Domingo – Dominican Republic), in a Master in Neuromarketing and Neurostrategy offered by ISG Business School (Lisboa – Portugal),  in the Neuromarketing Manager Program offered by the Hamburg Media School (Hamburg, Germany) and  in a Master of Science offered by the Barcelona School of Management (UPF University- Barcelona- Spain). He holds a PhD in Germanic philology.
He is also the Local Chair for Spain  of the Neuromarketing Science and Business Association (NMSBA)
For a consultation on Neuromarketing or NeuroStrategy, Antonio can be reached at [email protected].

For a clip of Antonio, click here.
Renato Sneider
SalesBrain Certified Partner -Brazil-
Renato is a seasoned marketing  and business development professional, who brings over 2O years of experience, including 5 years of international experience, both working and studying in the UK. His passion is to work with precision marketing, innovation and people development to help companies generate more business, more clients and more results.
Before joining SalesBrain, Renato founded and headed for 9 years a company called Direto Targeted Marketing, a direct marketing firm, , specialized in CRM (Customer Relationship Management), DBM (Database Marketing), Direct Communication & Digital Services, attended several companies including New Holland, CASE IH, HSBC, EXXON MOBIL and many others.
Renato is a lecturer of Marketing and Neuromarketing in Universities and Post Graduation Courses in Brazil and Portugal and also develops training courses targeted at commercial teams, having already trained more than 1500 sales and marketing executives in the last 3 years.
Renato holds a BA in Business Administration, 2 Post Graduation in Direct Marketing and E-marketing from the Institute of Direct Marketing – UK and a Post Graduation in Neuromarketing and Neurostrategy offered by the EEN Business School (Madrid – Spain) . He is also a certified Coach by the (IBC) Brazilian Institute of Coaching.
Renato can be reached at [email protected]
Certified Persuasion Professionals
Michele A. Barry
SalesBrain Certified Persuasion Professional -USA-
Michele has been coaching CEOs and their teams for more than 30 years, helping them achieve:
Scientific growth
Rapid growth
Proven growth
As a 14-year Vistage Chair with the world's largest CEO membership organization, Michele has developed business leaders in small start-ups and large, complex public, private, and not-for-profit companies. She works across a wide variety of industries including technology, software, construction, engineering, manufacturing, publishing, healthcare, and more.
An avid learner, Michele earned a BA from Williams College, an MS in Accounting from New York University, a joint MA in Literature and Women's Studies from Brandeis University, and an MLAS in Leadership from The Thayer Institute.
In conducting more than 8,000 hours of executive coaching and hundreds of workshops, Michele uses an array of tools and decades of experience to help leaders and their organizations grow. As a Certified Persuasion Professional, Michele will bring the additional expertise in NeuroMap® to her work with you and your organization.
Michele can be reached at [email protected]